The October 2017 six-monthly release of NationalMap is perhaps our most exciting ever.
First, we've rolled out some significant changes and updates (that have been two years in the making) in the October Custom Delivery release, many of which are also available on NationalMap Data Service.
Second, we've also launched our brand new NationalMap website, along with with three stunning, pre-configured Basemaps as well as two comprehensive Data Bundles - Roads & Transport and Location Data. And the NationalMap Data Service is now well and truly up and running.
An exciting time for us and our customers - NationalMap is now more accessible, user-friendly, current, and comprehensive than ever.
So. Let's get to it. What can you expect in the latest release of NationalMap?
Near-perfect road alignment promises vastly improved route optimisation.
In July of this year, our team completed a two-year positional accuracy improvement review project.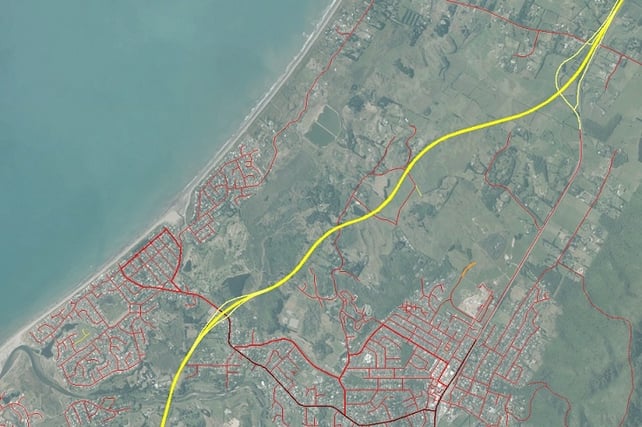 The Kapiti Expressway - aligned to within two metres,
giving NationalMap users a true and authoritative view.
All New Zealand roads are now aligned to within two metres of their real-world positioning in NationalMap. This means improved:
Junction geometry
Real-world alignment
Network connectivity
Network routing attribution (one-way roads and turn restrictions)
These updates have been rolled out through the roading data in the NationalMap Data Service as well as NationalMap's Custom Delivery.
Road changes and alterations as part of ongoing maintenance.
In line with our constant and consistent review processes, we've made changes and improvements to our road network since April this year.
Change or alteration
From Apr 17
to Oct 17
From Oct 16
to Apr 17
From Apr 16
to Oct 16
Number of new roads
808
705
1,312
Number of new roads with road name alterations
209
166
110
Number of roads with speed limit alterations
563
506
800
Number of roads with positional accuracy improvements
13,495
23,371
37,950
Points of Interest and Contextual Data have been reviewed and changed to suit.
As well as reviewing Retail Areas (including retail area and shopping centre polygons) and Education POIs, we've also improved alignment of built up areas with the coastline - resulting in minor, but beneficial, changes to the Sea Outline and Sea Detail layers.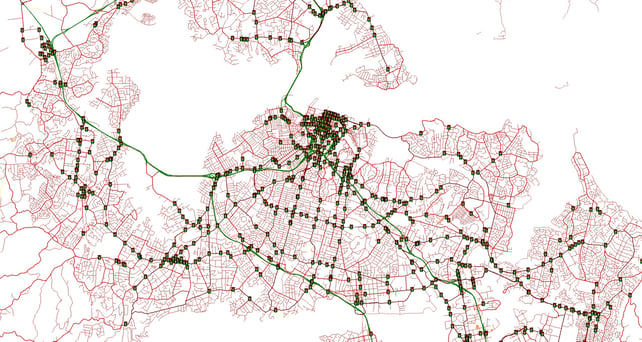 We also conducted a review of the Traffic Lights RouteFinder layer for Auckland
We've also added the Commercial POIs dataset, available via NationalMap Data Service. A brand new addition to NationalMap, Commercial POIs is a new data layer that provides a searchable catalogue of commercially significant points of interest including:
Automotive.

Includes automotive stores such as Tyre Centres, Vehicle Testing Stations and Rental Car Services

Cinema.

Includes both Cinemas and Theatres

Financial Services.

Includes Banks owned by different companies

Postal Services.

Locations of Post Offices and other facilities that provide postal services

Quick Service Restaurants.

Includes the major fast food chains of McDonald's, KFC, Burger King and Pizza Hut

Retail.

Includes a variety of well-known stores such as The Warehouse, Briscoes and Bunnings

Retail Areas.

Contains Shopping Centres and large groups of retail stores

Service Stations.

Locations of Service Stations, including Truck Stops

Supermarkets.

Locations of Supermarkets

Telecommunications.

Contains stores for both Vodafone and 2degrees Mobile.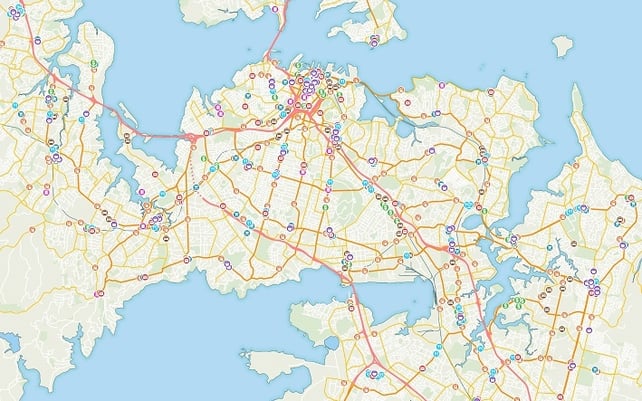 NationalMap's new Commercial POIs dataset
If you're keen to get your hands on the new Commercial POIs dataset (or simply want to know more about them) get in touch with us on sales@nationalmap.co.nz
So there you have it. The biggest updates and changes in the latest NationalMap release (and NationalMap in general!)
With the launch of our new site and all that comes with it - Basemaps, Data Bundles, and various Delivery Methods - we welcome your feedback and suggestions. We want to continue to develop and deliver NationalMap in a way that suits your every needs (and then some).
You can get in touch with us or provide feedback here. If you'd like to read the latest release notes, click the button below.