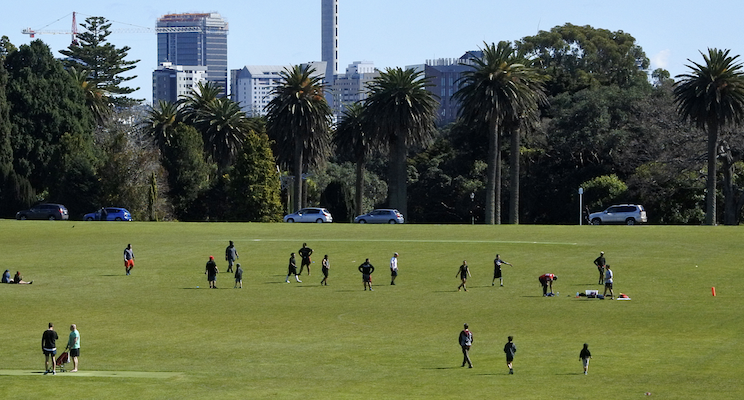 Prior to the advent of the motor car most cities were probably by default organised in a way that allowed residents to meet most of their daily needs within a 15-minute walk from their homes. However, the impact of things like motorways, traffic congestion and urban sprawl have meant that for many cities, the distance to essential amenities for its citizens has gradually increased over the years.
With today's focus on environmental sustainability, the idea of cities being (re)designed around the needs of people (rather than cars) is gaining attention.
In 2016, Carlos Moreno, a professor specialising in complex systems and innovation at the University of Paris 1 Panthéon-Sorbonne coined the term "15-minute city".
Moreno's vision for a 15-minute city is one where people live, work, and play with access to their daily needs (such as; work, housing, food, health, education, culture and leisure) all within the distance of a 15-minute walk or bike ride.
The concept is getting traction in a number of cities around the world (including our own Hamilton with its '20 minute city' model), with many urban planners using it as a framework for designing more liveable, sustainable, and resilient cities.
Of course, as with almost anything these days, the idea of 15 minute cities are not without their own attendant conspiracy theories… but ultimately, this sensible trend towards building more resilient, sustainable, and people-centred communities is only likely to continue to gather momentum.
All of which got us thinking here at NationalMap, given the wealth of data we curate and manage, what would inform our own urban planners when it comes to proximity to amenities, and how do some of our main centres already stack up as "15 minute cities"?
We decided to do a little analysis and create some visualisations...
Our Methodology
Our basic methodology was to apply walking distances from selected amenities by using NationalMap's biometric walking network and NationalMap's 'Points of Interest' (POI) data.
While there are no international standards in terms of the amenities that need to be within a 15 minute walk or cycle, as previously mentioned, it's generally accepted that these should include access to; food/supermarkets, parks, transport for commuting to work, medical facilities, schools and culture.
All of which (and more!) is included in NationalMap's 'Points of Interest' data, but we decided to focus on the following attributes or POI's.
Supermarkets

Railway Stations

Libraries

Parks/green space

Medical centres

Preschools

Primary and secondary schools
We then averaged all the inputs above, overlaid the average figures and clipped the maps/visualisations to built-up areas only.
Our visualisations then show walking journeys at:
Greater than 20 minutes = Red

15 to 20 minutes = Orange

10 to 15 minutes = Yellow

Less than 10 minutes = Green
Areas that are coloured either yellow or green meet the requirement of a "15 minute city", any area coloured red or orange does not, however, a 15-20 minute walk (orange) to key amenities is probably still a pretty appealing and practical distance for most.
It should be noted that it's not our intention with these visualisations (or at this this level of analysis) to make any value judgements on how various cities are faring or positioned to embrace the concept of a 15 minute city. However, we certainly have all the data and analytical capability to assist any urban planners interested in looking to research this concept further.
You can check out our visualisations for selected main centres below (including Hamilton) and if you believe your research or operations can be helped by deploying NationalMap's Points Of Interest (POI) data then get in touch with us today.
Hamilton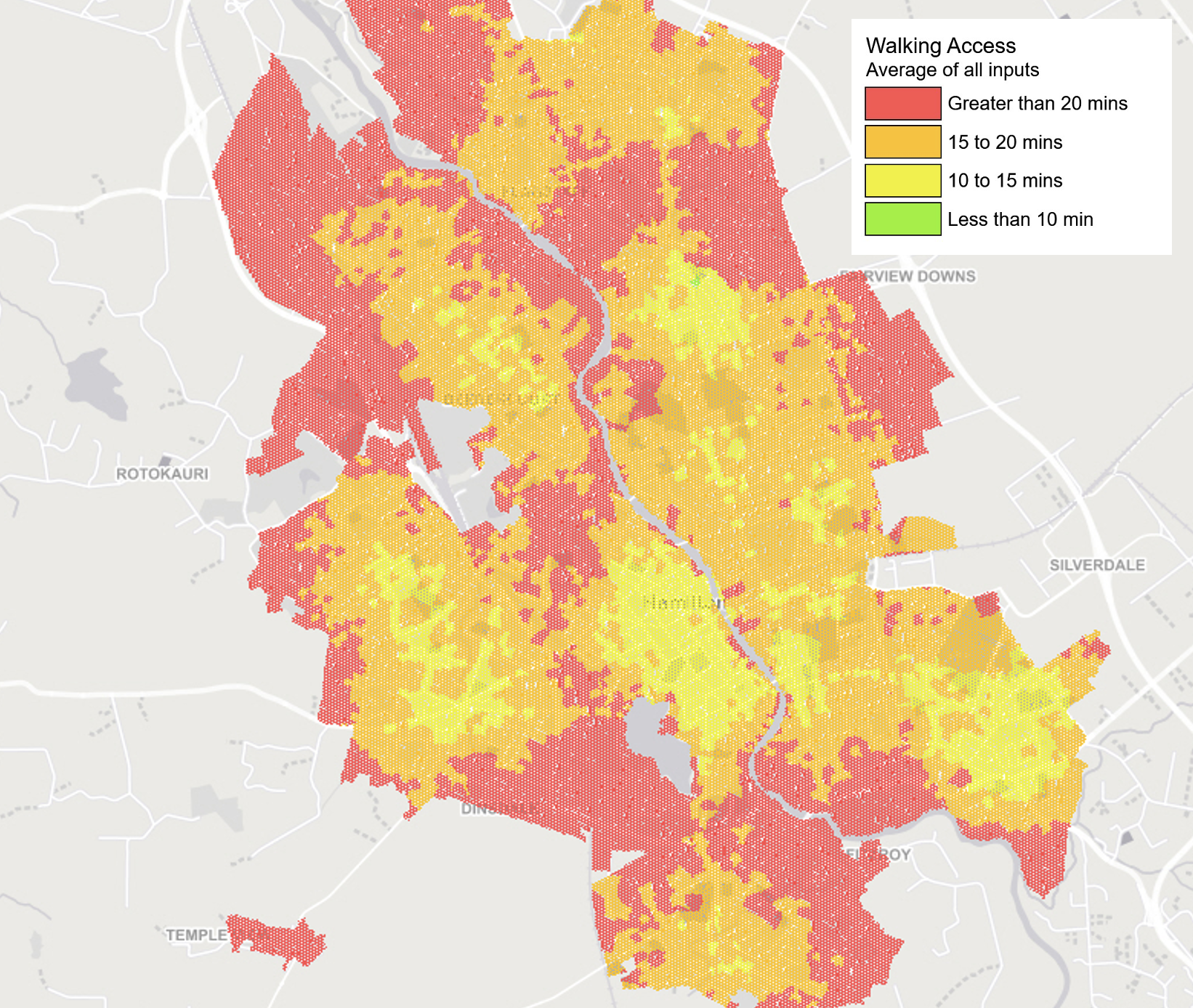 Auckland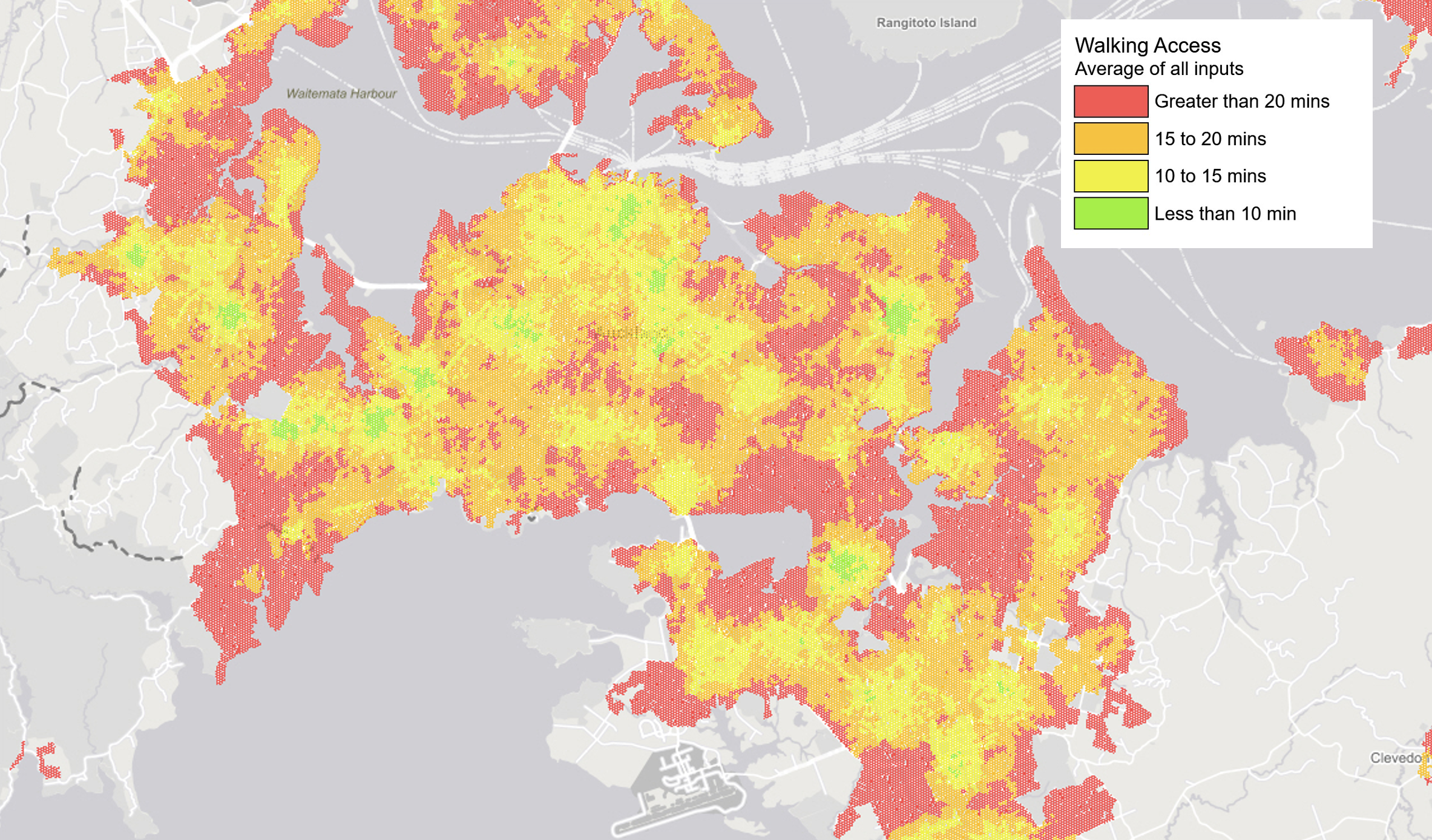 Christchurch
Dunedin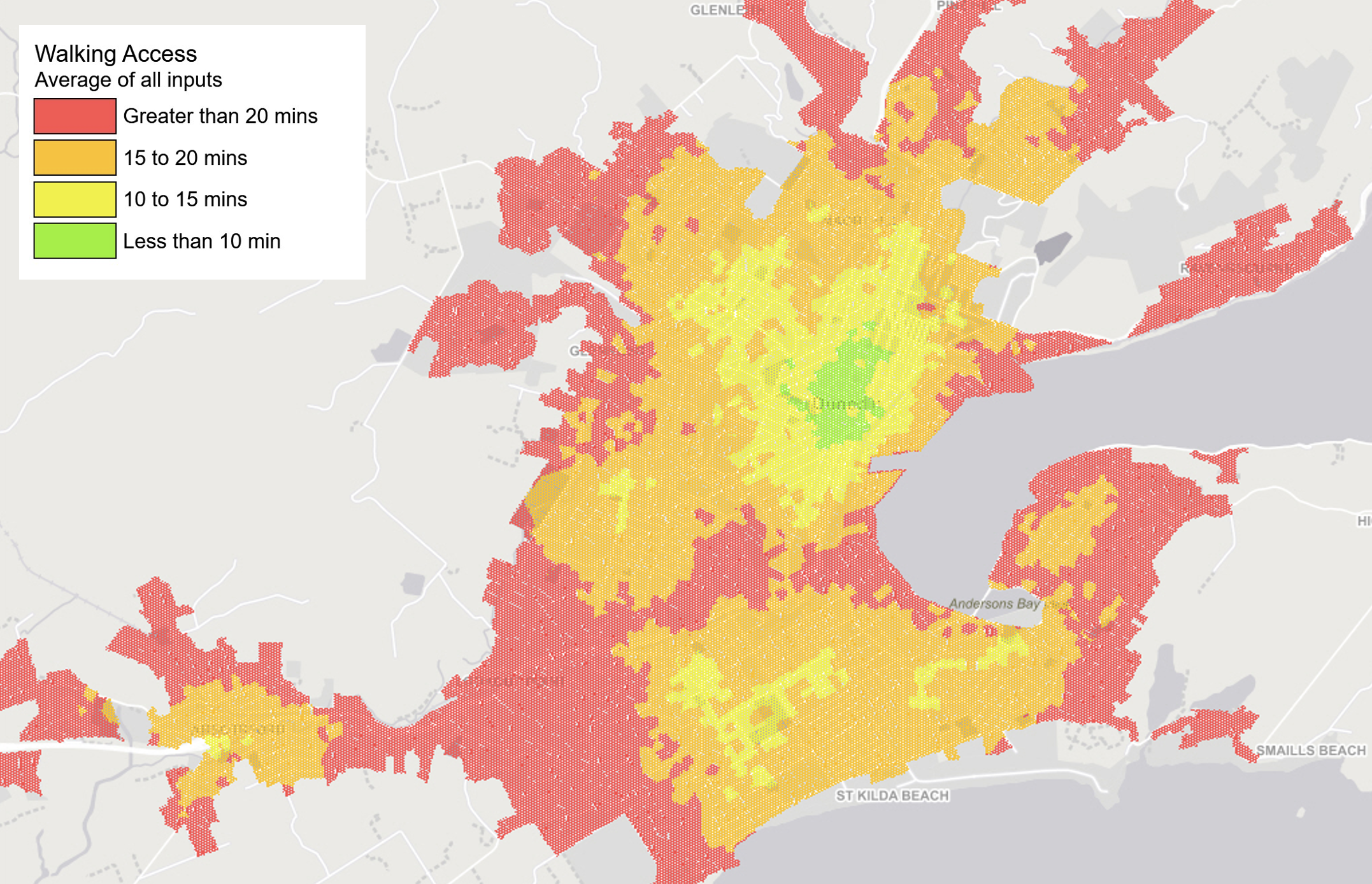 Greater Wellington