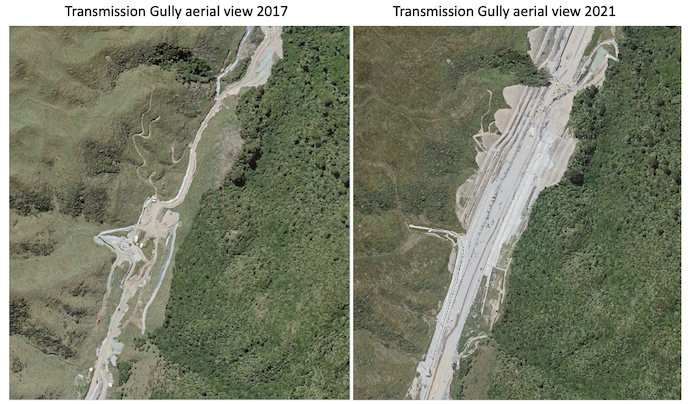 Image credit: LINZ & Kāpiti Coast District Council
It had been rumoured for a number of weeks that Transmission Gully would be open for traffic by Easter 2022. However, it now seems that Waka Kotahi/NZTA has publicly announced that it will be open at the end of THIS month (March 2022).
Either way, there's no escaping that the much anticipated Transmission Gully opening day has been something of a "moveable feast" for the last few years.
Indeed, part of me was hoping that it would actually open over the Easter holiday (perhaps that most famous of all moveable feasts) as there would be some elegantly ironic synchronicity at play if that were to occur.
For now though, it appears to be a date in late March that we are all waiting for with bated breath…
To say that the Wellington region has been waiting for this day to arrive for too long is probably an understatement. Particularly when you consider that the idea of Transmission Gully and a highway connecting the Kapiti Coast to Pāuatahanui (via the Wainui saddle) was first proposed well over 100 years ago by a William Hughes Field (who was the local Ōtaki MP at the time).
Of course, it's easier to propose massively complex projects than it is to complete them and there is no question that Transmission Gully has been a huge undertaking in challenging terrain and conditions.
Contractors have moved heaven and (quite literally) earth to build this motorway, as comparison of the Digital Elevation Model (DEM) of the earth works (2013 vs 2021) below shows.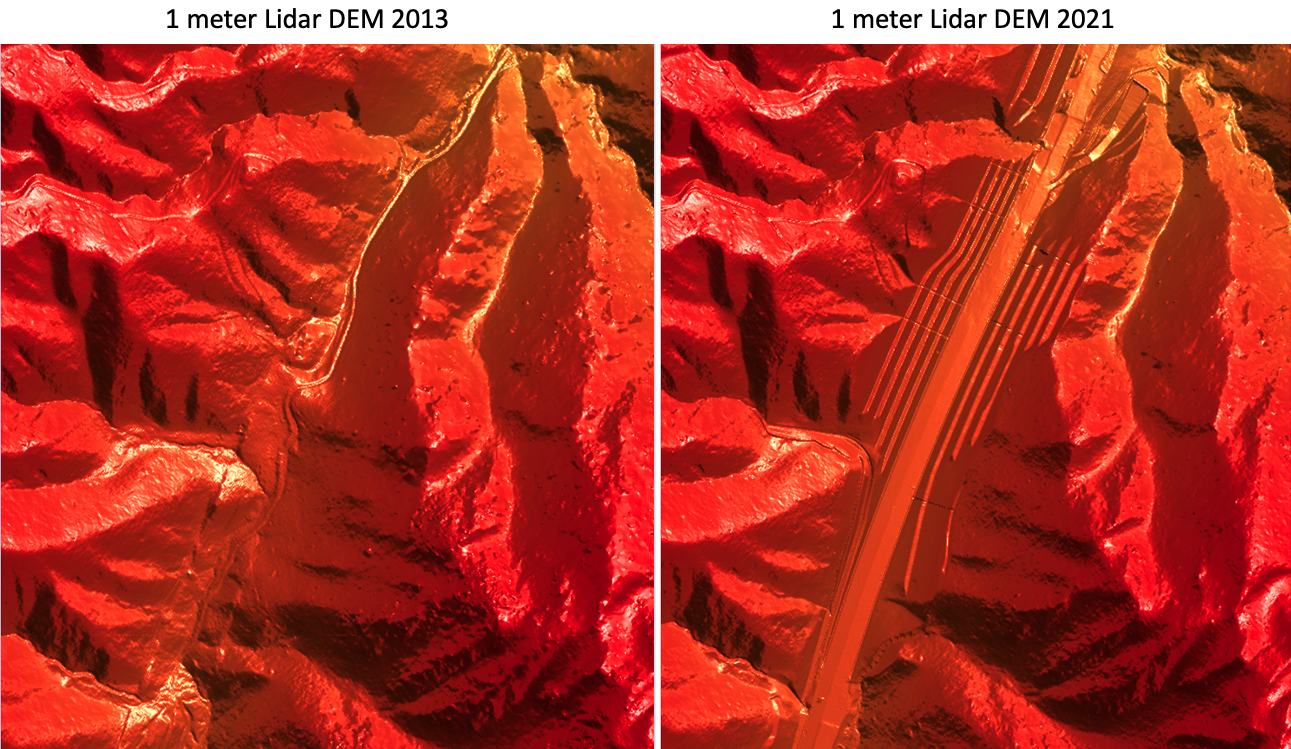 Image credit: LINZ
So, now that Transmission Gully is almost here, with the frustrations of missed deadlines soon to be in the rear-view mirror, myself and the team at NationalMap definitely feel it's worth celebrating the clear benefits that it will provide the region.
The key benefits of the Transmission Gully motorway
Another route between Wellington and the lower North Island (one that that is better able to withstand earthquakes)

Increased capacity and passing opportunities to create safer journeys for all motorists

Reduction of through traffic (and traffic congestion) within coastal communities like Plimmerton and Pukerua Bay

Easier access and connections to SH1 for Porirua and the Hutt Valley (as well as more efficient freight movement between Seaview/Hutt Valley and much of the North Island)

And of course, reduced travel times.
Digging into those reduced travel times…
Peak-hour travel time savings are estimated to be around 15 minutes per journey between Kapiti and the Hutt Valley, 10 minutes between Kapiti and Wellington and between 5 to 7 minutes between the Hutt Valley and Porirua.
Interestingly though, modelling carried out at NationalMap shows that it's actually going to be slightly longer (distance wise) to go from Tawa to Kapiti (via Transmission Gully) but 6 minutes shorter timewise than going via the old coastal route.
- Tawa to Kapiti via Transmission Gully -
Time = 24.1 Mins, Distance = 31.98 km
- Tawa to Kapiti via old coastal route - Time = 30.6 Mins, Distance = 31.30 km
Obviously, as New Zealand's premier provider of roading and navigation data we are thoroughly invested in creating in this sort of information and insight, however, I do think the above calculation illustrates nicely how often the shortest route is not always the quickest route. That said, sometimes you should just enjoy taking the scenic coastal route, but, it's always important to understand your options.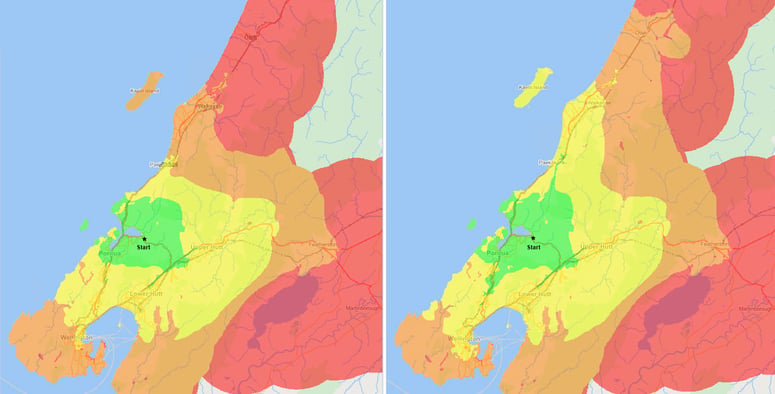 The above isocrone graphic demonstrates how much further (in 15 minute increments) Transmission Gully will take you versus going via the old coastal route.

Big projects (like Transmission Gully) versus incremental change
While Transmission Gully is obviously an excellent and high-profile addition to our state highway network (and its impact and importance to the Wellington region will be enormous), for us, it's actually a pretty easy task to add this new motorway into the NationalMap database and visualise.
That's because large scale fundamental change of this nature is often signalled well ahead of time. So, while dramatic in one sense, it's really the opposite of why NationalMap is so critically important for our customers.
The real value that NationalMap offers is not in capturing the big, well trumpeted changes (that pretty much everyone sees coming). Rather, it's in the everyday capture of the small incremental change. Think of it this way, if you're a transport operator with hundreds (or even just dozens) of trucks on the road, the small hold-ups, or poor routing options that your fleet experience daily soon add up to a huge impact on productivity (and safety).
Now, due to the media interest, most truckies are going to be fully aware when Transmission Gully opens, however, they are much less aware of all the small-scale change that happens constantly all over New Zealand. The constant and unrelenting changes to speed limits, or new roundabouts, traffic lights and the new intersections or bypasses that fly under the radar, but are being built or added to the network almost every day up and down the country.
So, while Transmission Gully looks and feels like a huge new addition or change to our national road network, it really only represents a fraction of the change that occurs in any given year.
Of course, we already have Transmission Gully digitised and ready to go live in NationalMap the minute the new highway does open, but it's really the cumulative effect of all the "small scale" change that creates the biggest impact on those navigating our national roads.
Which is why at NationalMap, we are constantly updating our road network to reflect any change (no matter how small).
If you run a fleet of vehicles nationally and want to understand how NationalMap can help your business with smart routing and navigation solutions that will substantially improve your fleet productivity and safety - then get in touch with us today.