Here at NationalMap, we pride ourselves on getting things right and we've been doing this for 30 years.
Quality is our focus; it's there to provide our customers with confidence and assurance that any analyses or tasks they undertake are underpinned by data they can trust.
Routing can be a complicated beast, but at its simplest level, it comes down to:
Address point location and proximity to roads; and
Linking said address point to the most appropriate location or roadlink.
There is obviously a lot more that goes on "under the hood" but bearing that in mind, with over 2 million address points and over 100,000 kilometres of road network in New Zealand, the real world doesn't always play fair with getting you to the right location without spending the last 5, 10 or 15 minutes of your journey trying to find your final destination.
We have thought of that. In the last year alone, we have added over 11,000 km of private roads and driveways that enhance the ability to get to where you need to be the first time, and without that "you have reached your destination" consternation when you realise you haven't, and you are now on your own.
We have not just thrown the kitchen sink at it either. Each and every one of these private access roads have been verified for suitability on its own merit as to whether it will enhance the routing capability of NationalMap, and any routing solutions built on it.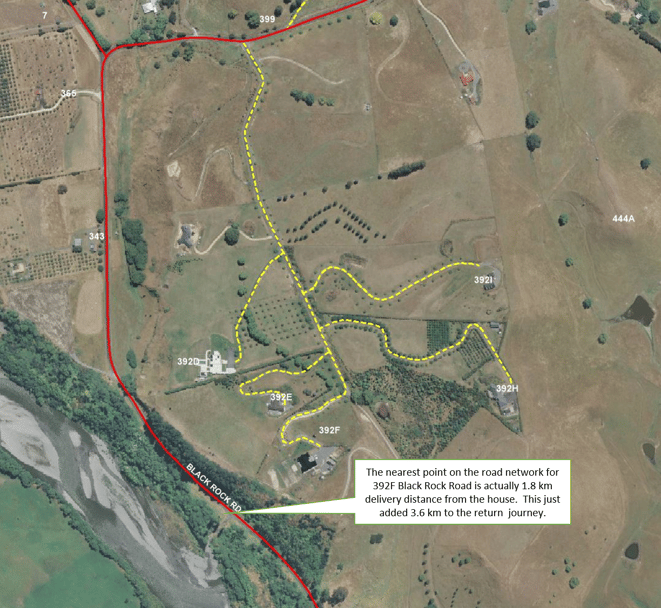 Realistic routing, time and distance forecasts rely on having complete and precise private driveway alignments and rural address point locations.
If you want to stop wasting time on that "last mile", you need to talk to us. And being a New Zealand owned and operated company … if there are things you need or we don't have, no problem … we get it done.