I absolutely love imagery. It is a source of truth in an ever-changing world and one of the most useful tools for creating and maintaining the accurate, reliable, and current road network we provide in NationalMap.
Back in 2015 LINZ began making high quality imagery freely available to everyone and it confirmed to me quickly that the positional accuracy of our road network needed to be reviewed.
Now to many, positional accuracy is a 'nice to have' attribute, but to me it is the foundational truth and necessity that geospatial data must provide otherwise if that "spatial" element is wrong we may as well just keep that data in a spreadsheet.
So, with that being said, I set out to visit and realign the entire NationalMap road network (over 100,000km at the time). It took me a year and a half and well over 3 million vertices were reviewed, added, or realigned to within 2 metres accuracy of the imagery available.
I must attest it was a mission… an ultra-ultramarathon… but it gave me knowledge of the entire dataset and most importantly, the trust to endorse it to others.
Moving on 3 years we have actively maintained and reviewed our road network as new imagery sets have become available, but the currency of the imagery has always hindered 'knowing' the state of progress in new subdivisions and new roading projects.
With Maxar Satellite Imagery as soon intelligence reaches us we are immediately able to see and verify what is happening anywhere in the country often within weeks of an image being captured.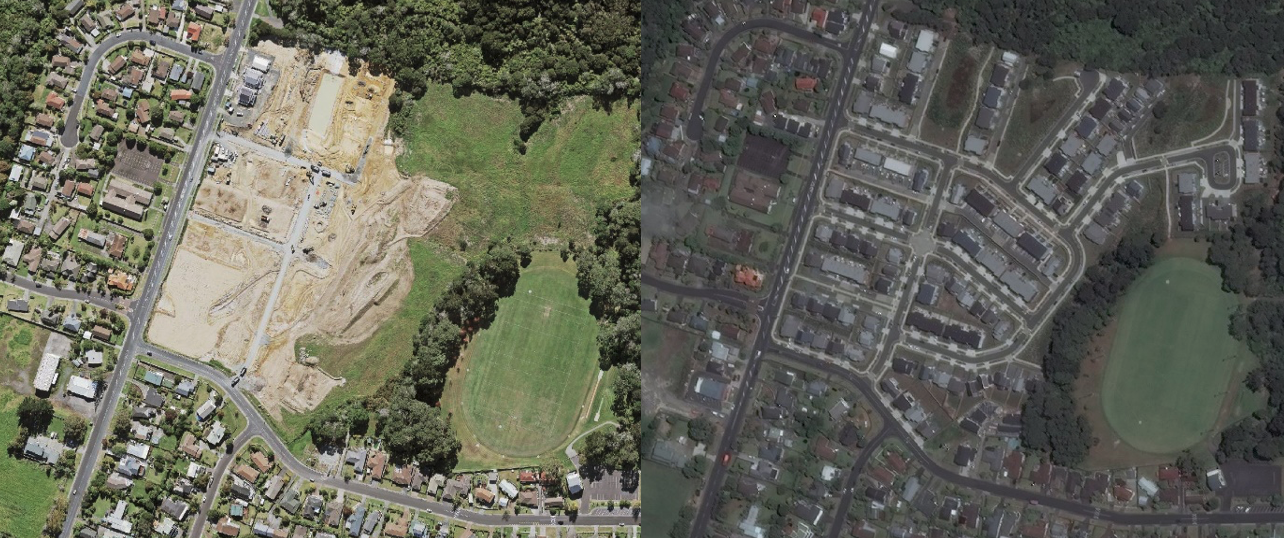 With over 180 development areas in Auckland alone, the ability to verify the status/progress of work is vital for providing our customers current and trustworthy data. (Pictured left LINZ 2017. Pictured right Maxar Satellite Imagery Jan2021)
Our sources of roading intelligence are many and varied but our customers can rest assured NationalMap is consistently 'best in class' for New Zealand.